Stacking the Shelves is a weekly meme hosted by
Tynga's Reviews
that makes it possible to share with other bookworms what books you added to your shelves
–
physical or virtual
–
during the week.
I purchased a graphic novel and a novel this week (well, exactly a week ago) in London. I didn't buy more books, because I couldn't have crammed them in my luggage... unfortunately. But I'm really happy for these!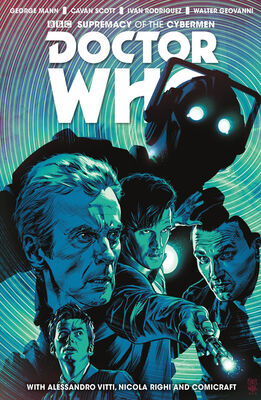 Title:
Doctor Who: Supremacy of the Cybremen
Author:
George Mann, Cavan Scott
Illustrations:
Alessandro Vitti
Synopsis:
Exiled from Gallifrey at the very end of Time, Rassilon, fallen leader of the Time Lords, has been captured by the last of the Cybermen. Now the Cybermen have access to time travel. With it, every defeat is now a victory. Every foe is now dead -- or Cyberised.
The Legions march across time and space, leaving devastation and converted civilisations in their wake, their numbers growing with every world that falls. Evolving. Upgrading. Reconfiguring. All seems lost. Forever.

Can the Ninth, Tenth, Eleventh and Twelfth Doctors - each battling the Cybermen alone, on a different temporal front - undo the damage that has been wrought on the universe, before they are converted themselves? Or is this how the universe dies? Not in fire, but in cold, unfeeling metal...
A multi-Doctor treat that I really need right now.
And I LOVE the cover!!

Tuscany, 1958

Behind a villa in the heart of Tuscany lies a Renaissance garden of enchanting beauty. Its grottoes, pagan statues and classical inscriptions seem to have a secret life of their own - and a secret message, too, for those with eyes to read it.

Young scholar Adam Strickland is just such a person. Arriving in 1958, he finds the Docci family, their house and the unique garden as seductive as each other. But post-War Italy is still a strange, even dangerous, place and the Doccis have some dark skeletons hidden away in their past.

Before this mysterious and beautiful summer ends, Adam will uncover two stories of love, revenge and murder, separated by 400 years... but is another tragedy about to be added to the villa's cursed history?
I borrowed this one from the library last year in London but didn't get
around to reading it
,
so it landed back in the library eventually, unread.
Now that I own it I
don't have to worry about
having to part with it.
It has a haunting cover, hasn't it?
What books did you add to your collection this week?