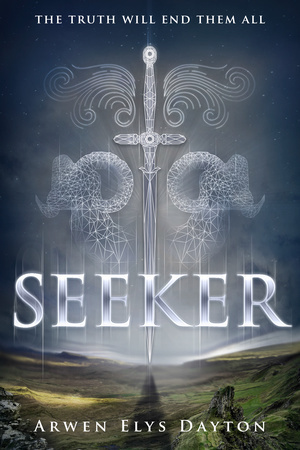 Title:
Seeker
Author:
Arwen Elys Dayton
Rating:
5/5 stars
Synopsis:
The night Quin Kincaid takes her Oath, she will become what she has trained to be her entire life. She will become a Seeker. This is her legacy, and it is an honor. As a Seeker, Quin will fight beside her two closest companions, Shinobu and John, to protect the weak and the wronged. Together they will stand for light in a shadowy world. And she'll be with the boy she loves--who's also her best friend.

But the night Quin takes her Oath, everything changes. Being a Seeker is not what she thought. Her family is not what she thought. Even the boy she loves is not who she thought.

And now it's too late to walk away.
I received a free ebook copy of this book by the publishers via NetGalley in exchange for an honest review.
[Warning: This review contains possible mild spoilers!]
My thoughts: Seeker is a tale of betrayal, love, fate and self-discovery. Its blurb promised me adventure and the promise was kept; it was an adventure and it was so much more.
Before reading it I thought this book was going to have a medieval setting and Quin was going to be a lady knight of some kind (the synopsis suggests that), but I was wrong – well, partly. The book is set mostly in our time, but there is a strong medieval feeling to it at some parts, and in a flashback we in fact go back to the 15th century one time. I loved how ancient, medieval and modern elements were mixed in Seeker.
I enjoyed the variety of modern settings (Hong Kong, the airship in London), but my favourite place in the book remains the estate which is located in Scotland. Somehow books set in Scotland lure me in these days… And I don't mind, because that country is beautiful and a place of myths and legends. It was a perfect setting for the beginning of the novel.
What truly gripped me in Seeker was the question of villains. What made this book really unique for me and made it stand out among many of the YA books was that the villains emerged from the protagonist(s) own people. A family member. A lover. Turning against you. Now that can shatter your whole world. Now that is something that makes things complicated – and not only for Quin, but for the reader as well. Because the question arises: is John really a villain? Who can tell what is right and what is wrong in the situation they are in?
Let me tell you, I usually don't enjoy love triangles, but in Seeker it's not annoying. Or at least it wasn't for me. Both John and Shinobu were interesting characters and there wasn't a pink cloud anywhere near in sight.
No pink cloud and no sugarcoating either when it came to gruesome parts. Yes, it is a book for young adults, but don't read it if you are squeamish, because there's quite a lot of injuries, blood and death in it.
All in all, it was an amazing read and…………. GIVE ME THE SECOND BOOK! NOW! Please!?