Teaser Tuesdays is a weekly bookish meme, hosted by MizB of
Should Be Reading
.
The rules:
•
Grab your current read
•
Open to a random page
•
Share two (2) "teaser" sentences from somewhere on that page
•
BE CAREFUL NOT TO INCLUDE SPOILERS!
(make sure that what you share doesn't give too much away! You don't want to ruin the book for others!)
•
Share the title & author, too, so that other TT participants can add the book to their TBR Lists if they like your teasers!
This week's teaser is from The Lies of Locke Lamora (Gentleman Bastard #1) by Scott Lynch: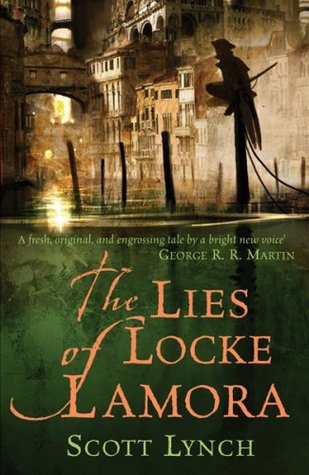 Blurb:
The Thorn of Camorr is said to be an unbeatable swordsman, a master thief, a friend to the poor, a ghost that walks through walls.

Slightly built and barely competent with a sword, Locke Lamora is, much to his annoyance, the fabled Thorn. And while Locke does indeed steal from the rich (who else would be worth stealing from?), the poor never see a penny. All of Locke's gains are strictly for himself and his tight-knit band of thieves. The Gentleman Bastards.

The capricious, colourful underworld of the ancient city of Camorr is the only home they have ever known. But now a clandestine war is threatening to tear it apart. Caught up in a murderous game, Locke and his friends are suddenly struggling just to stay alive...
'Black-cloaked riders on black horses, looming out of darkness and mist... It was easy to laugh at such conceits in full daylight. But night had a way of lending weight to phantasms.'
What do you think of this teaser? Also, don't forget to leave me a link to your own TT post! :)