Rules:
Pick a book related to the weekly theme that is announced in the group's Goodreads page (if you want to join, click here) in the beginning of each month.
Write a post in which you include pictures of the original cover, the cover from your country, your favorite cover and your least favorite cover.
Share the post in the creators' related post(s) or in the Goodreads group.
This week's prompt is:
There's still more love to share… Choose a book that deserves more love.
My choice is:
The End of the Affair
by Graham Greene
Everything is perfect about this book but I don't know many people who read it. This is an adult novel set during World War II that tells the story of a love affair in a very intresting fashion.
The narrative structure in this book is everything. I have never seen anything like it, it is truly unique. The first half of the novel is narrated by the male protagonist, Bendrix, who tells us the story of his affair with Sarah, the wife of a friend, up to the point when it ended.
Why did it end? Bendrix doesn't know the answer until one day he finally puts his hands on Sarah's diary. Her summary of the past events makes everything clear. All the while Bendrix believed he had been part of a love triangle but it turns out he was wrong. It wasn't Sarah's husband who took her away from him. It was someone who would forever be out of reach.
Above on the left you can see the cover of the first edition.
I put my favourite cover in the middle. I think it is simple enough but it reflects the content of the novel.
And to give an example of an ugly copy, the last one is my Hungarian edition.
Let me show you another cover which I find very pretty but I don't understand: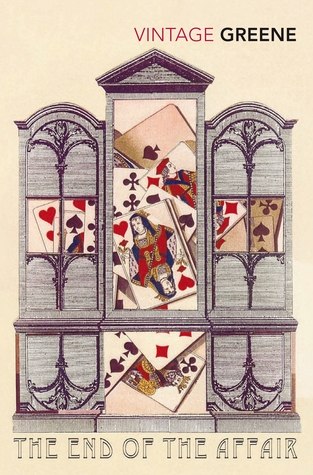 This is what I would call a misleading cover because I don't find any connection between the story and the image that dominates this front cover. Maybe I just don't remember enough to make the connection but the cards seem so out of place here... Anyway, at least it looks nice.
What book do you think deserves more love than it gets? Tell me in a comment below!