Thursday Quotables is a weekly meme created by Bookshelf Fantasies.
Read the rules and the details
here
.
My favourite quote of the week is from Dragonfly in Amber (Outlander #2) by Diana Gabaldon: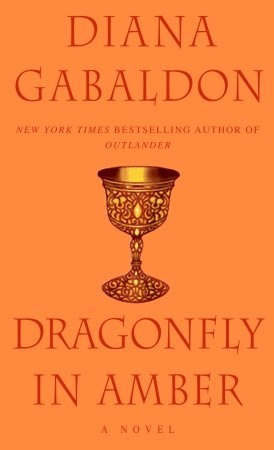 Blurb:
For twenty years Claire Randall has kept her secrets. But now she is returning with her grown daughter to Scotland's majestic mist-shrouded hills. Here Claire plans to reveal a truth as stunning as the events that gave it birth: about the mystery of an ancient circle of standing stones ... about a love that transcends the boundaries of time ... and about James Fraser, a Scottish warrior whose gallantry once drew a young Claire from the security of her century to the dangers of his.

Now a legacy of blood and desire will test her beautiful copper-haired daughter, Brianna, as Claire's spellbinding journey of self-discovery continues in the intrigue-ridden Paris court of Charles Stuart ... in a race to thwart a doomed Highlands uprising ... and in a desperate fight to save both the child and the man she loves.
"Lying on the floor, with the carved panels of the ceiling flickering dimly above, I found myself thinking that I had always heretofore assumed that the tendency of eighteenth-century ladies to swoon was due to tight stays; now I rather thought it might be due to the idiocy of eighteenth-century men."
Share your favourite quote from your current read in a comment or/and tell me what do you think of the one I've chosen!