What's Next is a weekly meme hosted by
IceyBooks
.
Here are a few books I want to read soon. Which one should I pick up first?
The Night Circus by Erin Morgenstern
In 1886, a mysterious travelling circus becomes an international sensation. Open only at night, constructed entirely in black and white, Le Cirque des Rêves delights all who wander its circular paths and warm themselves at its bonfire.

Although there are acrobats, fortune-tellers and contortionists, the Circus of Dreams is no conventional spectacle. Some tents contain clouds, some ice. The circus seems almost to cast a spell over its aficionados, who call themselves the rêveurs - the dreamers. At the heart of the story is the tangled relationship between two young magicians, Celia, the enchanter's daughter, and Marco, the sorcerer's apprentice. At the behest of their shadowy masters, they find themselves locked in a deadly contest, forced to test the very limits of the imagination, and of their love...
Love and rivalry. Can one survive the other?
I'm dying to know.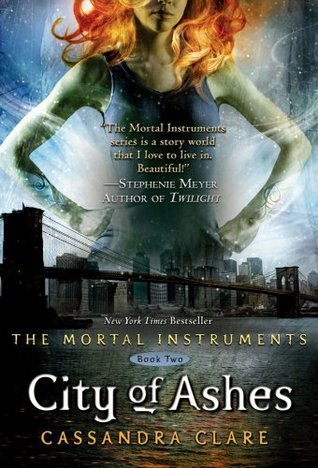 City of Ashes (The Mortal Instruments #2)
Clary Fray just wishes that her life would go back to normal. But what's normal when you're a demon-slaying Shadowhunter, your mother is in a magically induced coma, and you can suddenly see Downworlders like werewolves, vampires, and faeries? Clary would love to spend more time with her best friend, Simon. But the Shadowhunters won't let her go--especially her handsome, infuriating newfound brother, Jace. And Clary's only chance to help her mother is to track down rogue Shadowhunter Valentine, who is probably insane, certainly evil--and also her father. When the second of the Mortal Instruments is stolen, the terrifying Inquisitor suspects Jace. Could Jace really be willing to betray everything he believes in to help their father?
I read City of Bones a while ago and loved it very much.
I hope the second book will be even better (if that's possible at all...)
.
Because It Is My Blood by Gabrielle Zevin
Freed from jail, Anya hopes that things will get back to normal. But life on the outside is even more dangerous than life behind bars. Some of her gangland family want revenge for the crime for which she has done time: the shooting of her uncle. Forced to flee the country, Anya hides out in a cacao plantation in Mexico. There she learns the secrets of the chocolate trade, a trade that is illegal and deadly in her native New York. There too she discovers that seemingly random acts of violence carried out across the world have a single target: her family. As innocent bystanders get caught in the crossfire Anya must act fast and decisively to stop it, no matter what the danger to herself.
I started the Birthright series
ages ago, so probably I should re-read
All These Things I've Done

before starting
Because It Is My Blood
to
relive the events of the first book
.
I feel it's time to marathon these two books and then get the third one and read that as well.
He is Hamlet, Prince of Denmark; she is simply Ophelia. If you think you know their story, think again.
In this reimagining of Shakespeare's famous tragedy, it is Ophelia who takes center stage. A rowdy, motherless girl, she grows up at Elsinore Castle to become the queen's most trusted lady-in-waiting. Ambitious for knowledge and witty as well as beautiful, Ophelia learns the ways of power in a court where nothing is as it seems. When she catches the attention of the captivating, dark-haired Prince Hamlet, their love blossoms in secret. But bloody deeds soon turn Denmark into a place of madness, and Ophelia's happiness is shattered. Ultimately, she must choose between her love for Hamlet and her own life. In desperation, Ophelia devises a treacherous plan to escape from Elsinore forever . . . with one very dangerous secret.
Being a Shakespeare geek I'm always ready to put my nose in a book as this one.
Hamlet is one of my favourite Shakespearean tragedies and I'm eager to read the story from Ophelia's point of view!
The Kite Runner by Khaled Hosseini
Amir is the son of a wealthy Kabul merchant, a member of the ruling caste of Pashums. Hassan, his servant and constant companion, is a Hazara, a despised and impoverished caste. Their uncommon bond is torn by Amir's choice to abandon his friend amidst the increasing ethnic, religious, and political tensions of the dying years of the Afghan monarchy, wrenching them far apart. But so strong is the bond between the two boys that Amir journeys back to a distant world, to try to right past wrongs against the only true friend he ever had.
I've only heard positive things about The Kite Runner.
And come on, this is a book about friendship. Who doesn't love a book about friendship...?
Help me decide! Which one do you think I should read next? Please leave a comment below!