It's time to dive into the sea of TV shows.
From time to time I'll write about shows I like in the hope you'll fall in love with them as well, so I'll have people I can discuss them with... Basically you're invited to co-fangirl with me, if you're up to such a thing :)
If you already know the show, please, don't be shy, comment away, and if you don't, give it a try (if you like the premise) and come back to tell me what you think of it.
I'll always give book recommendations as well, after introducing the TV show, featuring books I think those who liked the show should pick up.
Ready? Steady? Showtime!!!

Today the spotlight is on: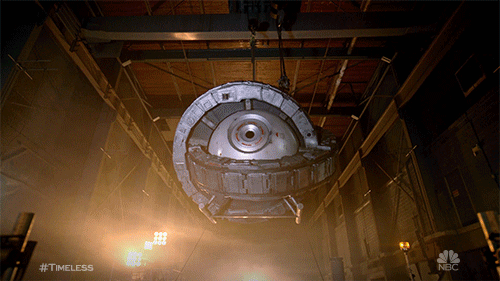 I know that there are countless TV shows out there about time travelling but for some reason I really warmed up to this one. Timeless is an NBC show, the first season is already out and at the moment all the fans are waiting for NBC's decision about renewal.
I haven't finished season one yet, I'm on episode 12, but I'm already in love with it.
Trailer for the first episode:
https://www.youtube.com/watch?v=zSYZJGAGvww
IMDB's description about the show:
'
An unlikely trio travel through time in order to battle unknown criminals and protect history as we know it
.'
How I would introduce it:
Someone invented a time machine at last, hoo-haaa. Too bad that a mysterious criminal nicks it right away, duh. But they still have an earlier, less shiny prototipe that works just as well (luckily!). All is not lost. And of course the government quickly involves some competent people who are ready to follow the stolen vessel and the bad guy. Thus the chase begins through time to save history and the world as it is.
Meet the 'unlikely trio'!
Lucy Preston
played by Abigail Spencer
Lucy is an adorable history professor who gets chosen for the mission because of her expertise. She knows A LOT about American history and her knowledge guides the team in every historical era.
I like her wit, that she always comes up with an idea when it is needed. Time travelling is challenging for her, because she tries to hold on to history as she knows it, but very soon she realises that reading about things is not the same as living them and Flynn's meddling cannot always be stopped either, so she has to try to adapt to the new circumstances eventually.
Favourite Lucy episode:
The World's Columbian Exposition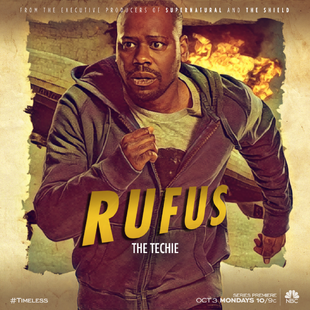 Rufus Caril played by Malcolm Barrett
Rufus pilots the 'Lifeboat' (their time machine) and his practical skills pull the others out of many tight situations. He has it the worst on most of the adventures, since the colour of his skin makes him a targeted person in most eras
.
His character developement is very sweet; Rufus is extremely shy in the beginning and thinks little of himself, but the missions bring the best out in him and he becomes more and more confident as they go.
Favourite Rufus episode:
Stranded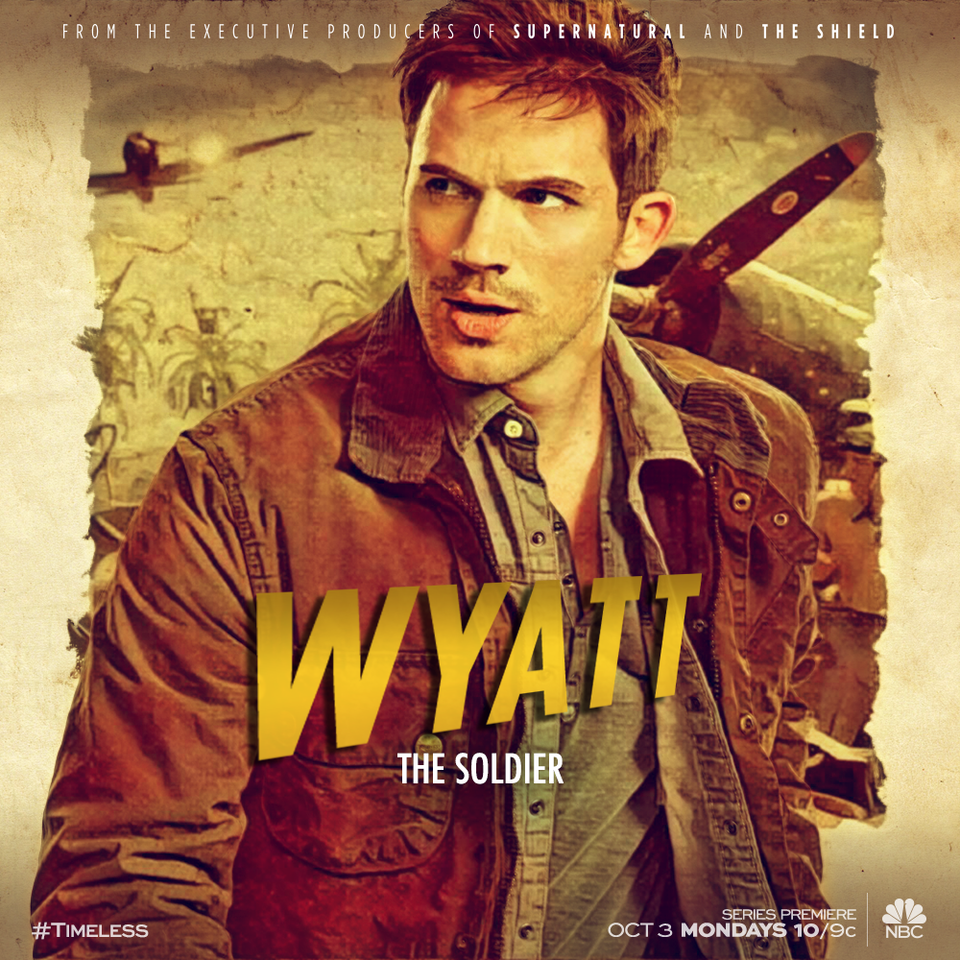 Wyatt Logan
played by Matt Lanter
The soldier guy, the handsome one. He is pretty cheeky and soon you'll ship him with Lucy (believe me...).
He has lost someone who was very close to him and he's trying to come to terms with his loss.
Hotheadedness, thy name is Wyatt.
Favourite Wyatt episode:
The Alamo
And let's not forget the dangerous time bandit the're set against:
The one with the 'Desperate times call for desperate measures' philosophy. I won't lie, I have a soft spot for Flynn. Yes, he is a murderer, he disrupts history, tries to change things, but when you learn why he does what he does and whose activites he tries to sabotage, suddenly everything becomes a lot more complicated. He fights for a noble cause for personal (selfish?) reasons and he doesn't let anyone get in his way.
And uhmm, he is also obsessed with Lucy.
Favourite Flynn episode: The Capture of Benedict Arnold
I learn a lot about American history while I watch it. I studied US history at uni, but this show goes into details that interest me and I always enjoy learning new things. They travel to a different time period in every episode and they always run into some famous people they gush over (like I would :)




It is funny. The character interactions make me smile very often (e.g.: Wyatt keeps calling Lucy ma'am, even though he knows she hates it) and there are hilarious misunderstandings sometimes when they

–

especially Rufus and Wyatt

–

talk to people from the past.
Example:
Arnold: Let's stop here. The horses need water, and I could use a thunder mug.
Rufus: That sounds good! What do you drink from a thunder mug?
Arnold: You urinate in it.
A show cannot win me over if it doesn't have lovable characters, not even if the story is good. I adore the team and hell, even the baddie earned my support. Go figure!
That's it about the introduction. For history buffs it's a must, and for everyone who enjoys entertaining telly. Have you already watched the show? Please let me know, so we can talk about it. If not, are you interested in it?
Click on 'Read more' to see my time travelling book recommendations!
Books about time travelling
A book and a comic I've read:

Author: Diana Gabaldon
Synopsis:
The year is 1945. Claire Randall, a former combat nurse, is just back from the war and reunited with her husband on a second honeymoon when she walks through a standing stone in one of the ancient circles that dot the British Isles. Suddenly she is a Sassenach—an "outlander"—in a Scotland torn by war and raiding border clans in the year of Our Lord...1743.
Hurled back in time by forces she cannot understand, Claire is catapulted into the intrigues of lairds and spies that may threaten her life, and shatter her heart. For here James Fraser, a gallant young Scots warrior, shows her a love so absolute that Claire becomes a woman torn between fidelity and desire—and between two vastly different men in two irreconcilable lives.
This is a very popular novel and starter of a series for a reason. I think the connection between Outlander and Timeless lies in the details. Gabaldon loves writing about the everyday life of the people of the era she portrays and the descriptions of little things bring that time close to the reader.

Author: Millar Murphy
Illustrator: Sean Gorndon Murphy
Synopsis:
Corbin Quinn and Danny Reilly are two red-blooded American guys who also happen to be scientific geniuses. With the whole world watching, they embark on the world's first time-travel experiment. But when their planned routine goes off-course, they're left to fend for themselves - leading to an era-hopping adventure! From ancient Rome to the roaring twenties to the 1980s music scene, Corbin and Danny wreak havoc with the time stream, score front-row seats to the world's wildest events, and get into hijinks with history's scariest villains. But is it worth the price, when they have unresolved problems to address back home in the present day - and a team of angry bosses ready to do whatever it takes to rein them in?
Why I chose it:
I actually own and have read the whole series of Chrononauts comics. Corbin and Danny's race through time is pure fun and they visit different eras just like the guys in Timeless. The illustrations are awesome and the dialogues are humorous. If you'd rather go for a comic than a book about time travel, try this one.

Two books I want to read:
Author: Octavia E. Butler
Synopsis:
The first science fiction written by a black woman, Kindred has become a cornerstone of black American literature. This combination of slave memoir, fantasy, and historical fiction is a novel of rich literary complexity. Having just celebrated her 26th birthday in 1976 California, Dana, an African-American woman, is suddenly and inexplicably wrenched through time into antebellum Maryland. After saving a drowning white boy there, she finds herself staring into the barrel of a shotgun and is transported back to the present just in time to save her life. During numerous such time-defying episodes with the same young man, she realizes the challenge she's been given: to protect this young slaveholder until he can father her own great-grandmother.
I'm soo excited about this book.
In Timeless I already saw how dangerous it can be for a black person to travel back in time, Kindred deals with the same topic
only with a woman protagonist.
Synopsis:
BROOKLYN: Andi Alpers is on the edge. She's angry at her father for leaving, angry at her mother for not being able to cope, and heartbroken by the loss of her younger brother, Truman. Rage and grief are destroying her. And she's about to be expelled from Brooklyn Heights' most prestigious private school when her father intervenes. Now Andi must accompany him to Paris for winter break.

PARIS: Alexandrine Paradis lived over two centuries ago. She dreamed of making her mark on the Paris stage, but a fateful encounter with a doomed prince of France cast her in a tragic role she didn't want—and couldn't escape.

Two girls, two centuries apart. One never knowing the other. But when Andi finds Alexandrine's diary, she recognizes something in her words and is moved to the point of obsession. There's comfort and distraction for Andi in the journal's antique pages—until, on a midnight journey through the catacombs of Paris, Alexandrine's words transcend paper and time, and the past becomes suddenly, terrifyingly present.
For the presence of the journal. There's a journal in Timeless too, only it's from the future, not the past. Revolution has been sitting on my TBR for a while now, it has a very tempting premise and it calls out to me every time I see the cover. I need to get to it soon.
What do you think of these books? What's your favourite book that involves time travel?