WWW stands for three questions:
1. What are you currently reading?
by Lecia Cornwall
Synopsis:
Laire MacLeod's father has married a mysterious widow who is a vain beauty that deals with potions and spells. Laire does not drink them with the rest of her family and is the only one who could see through her stepmother's games. When Laire flees to find help from her Uncle the Lady's huntsman follows her with orders to kill. Laire must survive in a dangerous new city and find the antidote to a poisonous potion before it is too late.

Iain Lindsay is cursed. He is bound for seven years to be the hunter of a Lady who uses him to bring back birds to use in her potions. When Laire MacLeod escapes the Lady's nets, Iain tracks her to Edinburgh, where she's found shelter with an unusual band of thieves, but he cannot bring himself to harm her. Instead, he finds himself falling in love with the MacLeod beauty.
But a Highlander's oath is his bond, and the price for helping her is death, both his own, and of those he loves.

2. What did you recently finish reading?
by Nicholas Sparks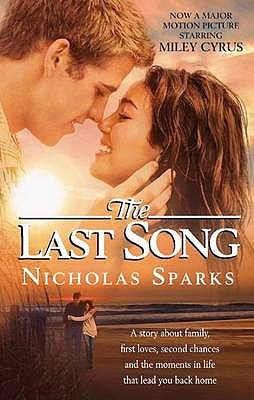 Synopsis:
Seventeen year-old Veronica "Ronnie" Miller's life was turned upside-down when her parents divorced and her father moved from New York City to Wilmington, North Carolina. Three years later, she remains angry and alienated from her parents, especially her father… until her mother decides it would be in everyone's best interest if she spent the summer in Wilmington with him. Ronnie's father, a former concert pianist and teacher, is living a quiet life in the beach town, immersed in creating a work of art that will become the centerpiece of a local church. The tale that unfolds is an unforgettable story about love in its myriad forms – first love, the love between parents and children – that demonstrates, as only a Nicholas Sparks novel can, the many ways that deeply felt relationships can break our hearts… and heal them.
The review is on the way. Unfortunately I can't say it'll be positive.

3. What do you think you'll read next?
by Greer Macallister
Synopsis:

For the first female Pinkerton detective, respect is hard to come by. Danger, however, is not.

In the tumultuous years of the Civil War, the streets of Chicago offer a woman mostly danger and ruin-unless that woman is Kate Warne, the first female Pinkerton detective and a desperate widow with a knack for manipulation.

Descending into undercover operations, Kate is able to infiltrate the seedy side of the city in ways her fellow detectives can't. She's a seductress, an exotic foreign medium, or a rich train passenger, all depending on the day and the robber, thief, or murderer she's been assigned to nab.

Inspired by the real story of Kate Warne, this spirited novel follows the detective's rise during one of the nation's greatest times of crisis, bringing to life a fiercely independent woman whose forgotten triumphs helped sway the fate of the country.
Probably.
The Girl in Disguise book tour reaches my blog on 25 March and that's not so far away now.
What are you reading at the moment? Do you have a WWW post? Don't forget to leave your links below.