Stacking the Shelves is a weekly meme hosted by
Tynga's Reviews
that makes it possible to share with other bookworms what books you added to your shelves
–
physical or virtual
–
during the week.
Hello Lovelies! Weekend is finally upon us and my library has grown again during the weekdays.
I purchased two ebooks this week, one of my requests got accepted on NetGalley, I recieved a blog tour e-ARC and I also downloaded a new Eighth Doctor audio adventure. I don't have a reason to complain, none whatsoever.
Without further ado, behold this week's newcomers:
Purchased:


Title: Blackmail, Sex and Lies

Author: Kathryn McMaster
Source: Amazon
Goodreads
Blackmail, Sex and Lies
is a Victorian murder mystery that is based on true events.
Frankly, I've never heard of Madeleine Smith before, but people has apparently believed her to a be a murderess since 1857. All we know is that a love triangle got resolved with a murder in that year and it probably came naturally to people to blame a girl who had the indecency to show interest in a working class fellow... But I'm jumping ahead, making guesses. I'll read this book to get to know the story and Kathryn McMaster's opinion on who dun it.
Title:
The Asylum for Wayward Victorian Girls
Author:
Emilie Autumn
Source:
Amazon
Goodreads
I say I purchased it, but that's not entirely true.
The Asylum for Wayward Victorian Girls
was free on Amazon a couple of days ago so if you check, there is a chance you can still download it, and it won't cost you a penny.
Two girls, both shut away in an asylum share a special bond through time in this book. I'm curious how the author connected the two worlds!
Title:
The Natural History of Fear
Writer:
Jim Mortimore
Source:
Big Finish
Productions
Goodreads

I decided to continue listening to the main range Eighth Doctor Audio Adventures. If some of you don't know yet, I'm a Whovian and Eight is one of my favourite Doctors. I actually met Paul McGann at one point, so yeah, I'm a fan.
I quit listening to these a while back, but I'm in the mood again, which means you can expect to see a few audio adventure reviews later on the blog.
ARCs: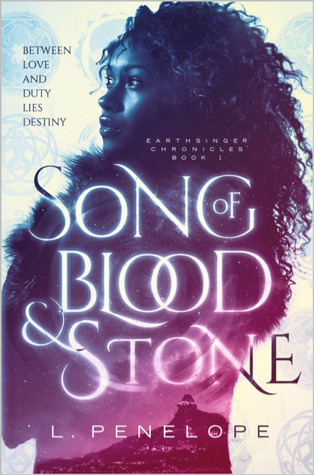 Title: Song of Blood & Stone (Earthsinger Chronicles #1)
Author: L. Penelope
Source: NetGalley

I've read excerpts from Song of Blood & Stone and I know it's beautifully written. The protagonist, Jasminda, falls in love with an enemy spy and together they try to stop the war that threatens to tear their world apart. There is also magical singing involved according to the synopsis. I can't wait to see how Jasminda and Jack work together towards their mutual goal.
Title: Hiding
Author: Jenny Morton Potts
I'm excited to be part of this tour because I haven't read a psychological thriller in a while.

Hiding
tells the story of two families whose story is somehow intertwined. It has an intriguing premise and its cover is breathtaking. It's partly set in Scotland. Need I say more? I've only read the synopsis and I'm already hooked... The tour is scheduled between April 2-6, so you can expect a review from me around that time period.
What books did you put your hands on this week? Let me know in a comment below!
Happy reading!