The Sunday post is a weekly meme hosted by
Caffeinated Reviewer
. It's a chance to share news, a post to recap the past week on your blog and showcase books and things you have received.
This week I tried to pick up the rhythm of everyday life after an eventful week/weekend.
I got book mail in which The Line of Beauty arrived (read about it below). It made me super happy because I rarely order books these days (I'm broke, ugh) and it's a good feeling to receive the package when I order one now and then.
This week I watched two films on Netflix. That's progress for me because lately I've mostly watched tv shows (the reason for that is that I'm somehow unable to concentrate on one thing for a long time, I find it easier to watch one episode at a time from a series rather than watching a long movie).
The movies I saw were totally out of my comfort zone, too. They were
Maid in Manhattan
and
Crazy, Stupid Love
. Romantic comedies are not my type of films so my sudden, fleeting crave for them surprised me. Anyway, both movies were entertaining and in that way they served their purpose.
By the way, am I the only one who now cannot unsee Voldemort when looking at Ralph Fiennes? It's a tragedy because for the longest time I had a crush on that man. And now... Voldy!!??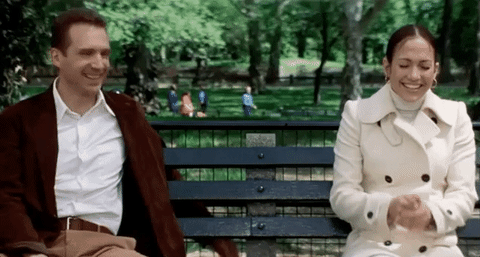 On the TV show front I'm very close to finish
Black Sails
. The situation in Nassau is very dire at the moment. I'm sad I have to let go of this show after the end of this season but at the same time I'm hoping for a satisfying ending. 'Cause even surly pirates deserve a happy ending sometimes.

Posts on the blog this week:
Stacking the Shelves is a weekly meme hosted by Tynga's Reviews that makes it possible to share with other bookworms what books you added to your shelves

–

physical or virtual

–

during the week.
Title: The Line of Beauty
Author: Alan Hollinghurst
It is the summer of 1983, and young Nick Guest, an innocent in matters of politics and money, has moved into an attic room in the Notting Hill home of the Feddens: Gerald, an ambitious new Tory MP, his wealthy wife Rachel, and their children Toby and Catherine. As the boom years of the mid-80s unfold, Nick becomes caught up in the Feddens' world, while pursuing his own private obsession, with beauty – a prize as compelling to him as power and riches are to his friends. An early affair with a young black council worker gives him his first experience of romance; but it is a later affair, with a beautiful millionaire, that brings into question the larger fantasies of a ruthless decade.
This is a critically acclaimed LGBTQ fiction novel from the year 2004. I have only read one LGBTQ book that was set in the 80s so far, Tell the Wolves I'm Home. I have the feeling the AIDS epidemic that touched the lives of the characters in that book will influence the happenings in The Line of Beauty as well. I'm a bit afraid this book will be a bit heavy on politics, given that the MC goes to live with an MP and his family but at least I'll have the chance to learn more about the Thatcher era. Political history is part of history after all.
How was your week? Please leave a link to your STS and Sunday posts below so I can go and comment on them! Happy reading!