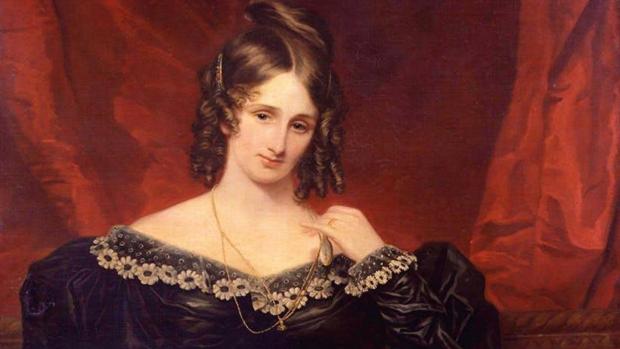 I've recently finished reading
Claire's Last Secret
by Marty Ambrose, a book that features
Claire Clairmont
,
Mary Shelley
's half sister, who in her old days in Florence recalls the 'haunted summer' of 1816, the time when
Frankenstein
was born.
Since Mary Shelley's birthday was yesterday, I thought it fitting to commemorate it with raving a bit about her and the romantic circle she belonged to (that is a favourite pastime of mine anyway...)
You'll be able to read a review of Claire's Last Secret on the blog in a couple of days. Since it mostly concentrates on Claire and Byron's relationship, I thought I'd rather discuss a more Mary-centered topic today, so let me talk a bit about the new movie called Mary Shelley, that's been out in the cinemas since May in the US and for about a month in the UK.
It hasn't hit the Hungarian cinemas yet, I'm not sure if it will at all but I'm very eager to watch it for obvious reasons (I'm crazy about the second generation romantics in case you haven't noticed by now).
Here you can watch the trailer:
Director: Haifaa Al-Mansour
Starring: Elle Fanning, Douglas Booth, Tom Sturridge, Maisie Williams...
I love how the story heavily focuses Mary and the trailer suggests we are going to follow her from the time she met Shelley at least until she got Fankenstein published, possibly further.
I have the feeling the movie will capture her as the strong woman she was, but also a woman somewhat trapped by her feelings. Percy Shelley's too liberal thoughts about love were always to his benefit, but were ever only hurtful to Mary.
I confess I'm not the most happy about the casting and I'm not sure for example that the Byron character will be 'Byron enough' for me but I won't jump to conclusions before actually watching the movie.
I hope this film will make a lasting impression, that the joys and tragedies in Mary's life will be shown with equal emphasis and that it doesn't turn into a teen drama becuase that would be a shame.
I can't wait to watch it and I'll make sure to let you know what I thought about it.
HAPPY BIRTHDAY MARY SHELLEY!
What do you think? Are you interested in watching Mary Shelley too?